Um, people. How come no one told me that there are only NINE weeks until Christmas? NINE. As in, less than ten. Single digits. I had all these huge ambitions for making all these amazing handmade gifts for my loved ones this year, and if I don't get started like YESTERDAY, it's never going to happen. Thus, I present you with (insert big booming voice here):
The Handmade Holiday Challenge!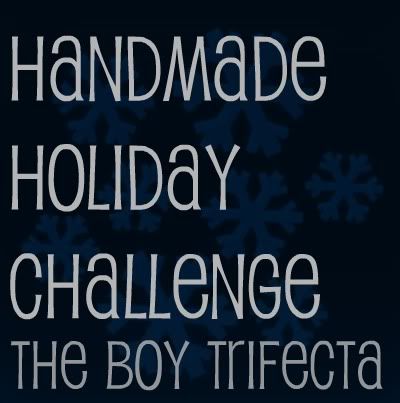 I am challenging myself to make ONE handmade gift per week, every week from now until Christmas. Wanna join me?
Grab a button from my sidebar, throw it on your blog, and link up your projects when you're done so that we can inspire each other. The button will bring you right back to this post when you click, so you can easily come back and post your projects.


In order to keep myself moving, here is my crafting schedule:
Week 1: My mother-in-law
Week 2: My boys
Week 3: My boys
Week 4: My boys (Um, there are three of them, they each deserve their own week!)
Week 5: My adorable niece
Week 6: My sister-in-law
Week 7: The husband
Week 8: My brother and sister (ages 2 and 9 - yes my boys have an uncle that is younger than them!)
Week 9: My grandmas
I'll show you projects each week, offer tutorials when I can, and point you in the direction of any patterns I use. I'm even going to try and line up a giveaway or two! Most of my projects will be sewing related, but I have a few crochet projects in my head as well.

So let's get started! Post anything you've made as a holiday gift below!